With just under 70 movies at last count, it's safe to say Keanu Reeves loves making movies.  He had made some appearances in movies early in the 80's but it wasn't until the surprise success of the 1989 film, Bill and Ted's Excellent Adventure , that Reeves became a household name.
He would spend the next decade starring in some of the top grossing films of all time including, Point Break (1991), Speed (1994), A Walk in the Clouds (1995), The Devil's Advocate (1997), and The Matrix (1999), which spawned several wildly successful sequels.  And those are just the biggest.  Reeves worked on at least 15 other movies during the 90's.
As a child, Reeves' father left early on, leaving him and his siblings to be raised by his mother.  She was a costume designer who had a revolving door of step fathers, and Reeves was often in the care of others.
During the filming of his movie I Love You To Death (1990) , Reeves met another aspiring actor in Hollywood, River Phoenix.  Him and Phoenix would become very best friends until the actor's sudden death from a drug overdose in 1993.  Reeves was only 23 years old at the time.
A short five years later he would meet and fall in love with David Lynch's assistant Jennifer Syme.  Article upon article describes them as "love at first sight" or "instantly in love".
The couple was expecting a child together but tragically on Christmas Eve 1999, while Reeves was filming The Matrix, he received a call that Jennifer had delivered the baby stillborn.  Unfortunately the relationship couldn't handle the strain and the couple broke up just a few short weeks later.
On April 2, 2001 Syme was returning to a party at performer Marilyn Manson's house and was killed in a car accident.
Despite all of his struggles, Reeves continues to stay positive.
Maybe grief shaped Keanu Reeves into the humble soul he has become.  Maybe life experiences played a role.  Maybe he was just born that way.  We might never know WHY Reeves is who is he, but one thing I can say for certain, we love him.
Especially with political agendas topping most celebrity agendas, and constant drama and rhetoric in Hollywood, Reeves is still just a pretty regular guy.  He doesn't play into the hype of his fame.  In fact, he doesn't even really get why we love him.
In a recent interview with him about his latest film Toy Story 4, another blockbuster for sure, but maybe not in the way Reeves is used to, People magazine asked him how he felt about being  "dubbed the internet's boyfriend".  The confused actor asked "I've been what?" and then continued by saying "That's, uh, that's wacky" and "Well, that's positively great".
Ah, the irony, since Reeves hasn't publicly dated anyone we know of since Syme's death in 2001.
Most celebrities want the fame and fortune.  Reeves just wanted to make movies.   He has invested his own money into his films to enhance special effects and costumes.  And I am not talking about a little bit of money.  It is rumored he paid about 75 million dollars back into the Matrix franchise, in turn making THEM all millionaires.
He has taken pay cuts on movies to hire additional staffing, he regularity donates his time and money to cancer research, he even gifted his entire stunt crew motorcycles!
He owns a motorcycle company called Arch Motorcycles where he sponsors up and coming riders.
He isn't doing this for the money.  He even turned down an 11 million dollar role in the Speed 2 sequel for just the possible chance of working with Robert DeNiro and Al Pacino.  He didn't even get the role. (Val Kilmer landed the role).
Reeves is also very down to earth and friendly.  He is humble when meeting his fans, and he is quick to even make the shyest fan feel comfortable.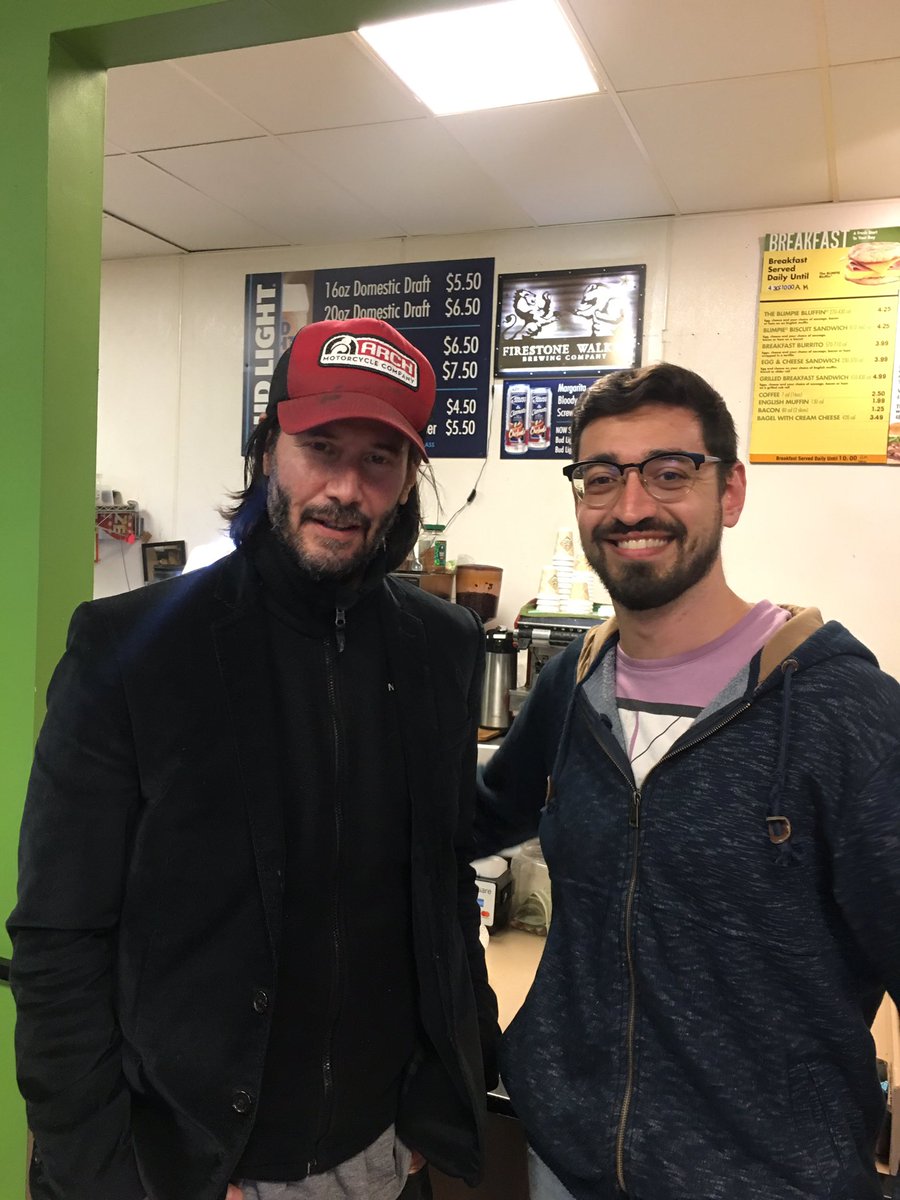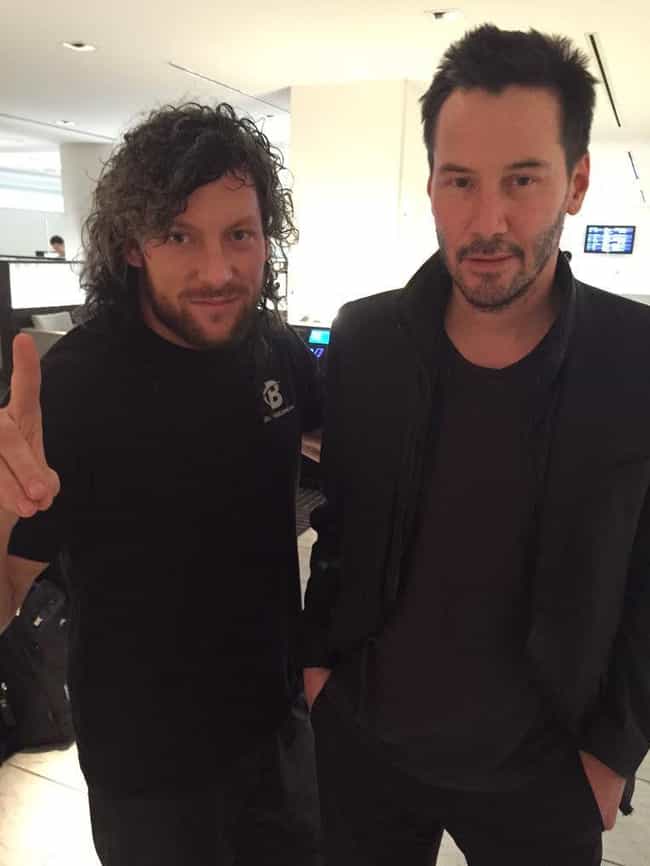 And if you take a peek at those photos again, you will see one thing common among all of them.  He's not at fancy celebrity dinners, or out promoting his films, he's just stopping in the gas station for some chips, or having lunch, something normal.   And attached to each of those photos lies a story about wonderful the experience was.
It's not just the internet that loves you Mr. Reeves.   A quick google search of what it's like to work with Reeves shields countless stories of the pleasure it was to work with him.  How friendly, kind and humble he is.
Check out this video of Reeves on the subway.
I could write an entire book on Reeves and why he is just simply an amazing soul.  Maybe I will, because there are way to many examples to list in a simple blog.
And the fact he wasn't even aware of how adoring his fans were, is just another reason we voted Keanu Reeves the nicest person on the planet.
We agree Mr. Reeves.  1,000,000%.