Our story begins in 2016 when an NFL football player took a knee during the National Anthem. He was peacefully protesting the treatment of minorities, but sparked national overnight controversy. The entire nation was either kneeling with Colin Kaepernick, or outraged he did not stand and salute our flag.  And whether you agreed with him or not, most believed his football career was over.  Kaepernick failed to renew his contract with the San Francisco 49'ers, became a free agent and has not yet been signed to another team.
But Kaepernicks career was far from over.
Enter…Nike.
Nike and Kaepernick entered into a multi million dollar contract together.  This left many people scratching their heads.  Why would Nike want to get together with all this controversy?  Did they believe in Kaepernick's cause?  Did Nike want to fight inequality?
Nope.
Nike didn't care.  Nike knew that putting this controversial face on the cover of their products would get their product NOTICED.  They saved a ton of money on advertising, because WE advertised for them.  Newsrooms reported about Nike, social media, word of mouth.
If you hated Kaepernick, you posted on social media your distaste and disgust.  Your friend who disagreed with you saw it and decided, now she is going to support Nike, because she believes in this cause.  Now her whole family, who probably didn't need new sneakers, all had brand new Nike's.
And the more hate that spread, the more support that spread, and Kaepernick's shoes sales went through the roof.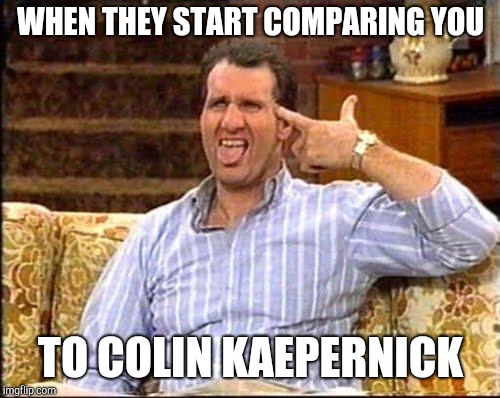 A simple meme, can be shared a million times.  And each time the negative meme is shared, it sparks controversy.  The social media algorithms kick into high gear, and you are now bombarded with Nike ads.  Except you don't even know they are ads.
In the 80's and 90's sex sold.  Television shows, media, papers, magazines, all filled with pictures of Pamela Anderson in a bathing suit.  That Playboy mansion wasn't built with Monopoly money.  But just as the 80's and 90's have come and gone, so have the days of the swimsuit magazines. Sure they still exist, but no one talks about them. 
Lot's of companies picked up on this tactic and have used it to boost their sales as well.
Have you heard about Disney's newest movie?  Oh you did?  Let me guess, you either love the idea or hate it? Disney doesn't care what you think about it's casting, they just care how many people you tell about it.
Attention is attention, and companies are quickly catching on that even negative attention is positive profits.